About Paola Trimarchi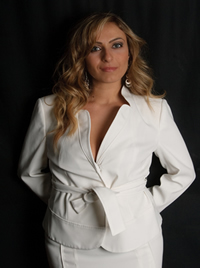 Paola Trimarchi was born in La Spezia, on 15th of July of 1984.
After Pacinotti High School Degree, in her own city, with the final mark 82 out of 100, she moved to Florence where she attended the first two years at the Faculty of Architecture.
Then, because of personal reasons, she had to move to Genova, where she decided to dedicate herself to Yacht Design right attending the Course of Industrial Design with Nautical Curriculum.
Once completed this path, her passion for interior design got the better just leading her to attend the Interior Design Course at Callegari Institute associated with the Creative Academy in Milan.
Later she was granted a scholarship for attending the High Training at the Polidesign in Milan, for Restoration Interior Design.
After coming back to La Spezia, she was contacted by Proship Studio Design, right working with them for 8 months devoting herself to different kind of designs as well, interior/exterior nautical, executive designs for Blue Bay boatyard in China, coffee shops or inner spaces and the concept for Zhoushan Lagoon Reclamation in China, known as East Blue Bay (presentation video: http://www.youtube.com/watch?v=gHZ7bRv_NdI)
Once ended out her work experience with this design studio, she decided to become a freelance.
Among her several collaborations we can mention that one with the architect Andrea Massalongo for the renewal of a block in a residential area in La Spezia, right for planning and interior design. Consequently she takes part to a group competition for the Diga Foranea environment recovering, in La Spezia, reaching one of the first 35 places of the ranking list.
Beside the collaboration with many architects and designers as well, Paola Trimarchi creates private projects like that one for City Plans elaboration advanced by the mayor candidacy of Paolo Pazzaglia, where have been graphically displayed both some projects and ideas right to enhance the city planning, private shops, like "Man's Factory" and "Ovale Store", or restaurants like "Naturalmente", biological restaurant next opening in Genova.
In November 2013 she took place in high level course for designing of Wellness Centre & SPAs at specialized company STENAL sited in Abano Terme.
During her carreer, she attended the course at PMI - Project Management Institute and she's going to obtain the international certification of PMP - Project Manager Professional.
In 2015 she decided to earn a second degree in Architecture, by enrolling in the five years degree course of Architecture at La Sapienza University, Rome.